Two more productions online
Two more NCP productions are now online – Genesis (1975) and Twelve Angry Men (1989).
Genesis (1975)
Genesis was unique for three reasons:
It was a world premier production.
An LP was released with all the songs from the show.
Kenya Post issued a special Genesis stamp.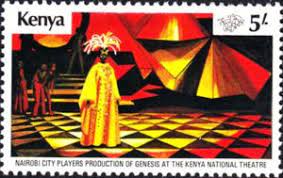 Note the elaborate headdress of the actor featured on the stamp – another of Mary Epsom's many costume creations.  As Mary states correctly – "you must get the hats right!"
Twelve Angry Men (1989)
This was the second staging of Twelve Angry Men by NCP.  The first one was in 1967.
Bryan Epsom and Walter Hinds are the only two actors to have starred in both productions, 22 years apart. Note the autographed cover of the programme below.